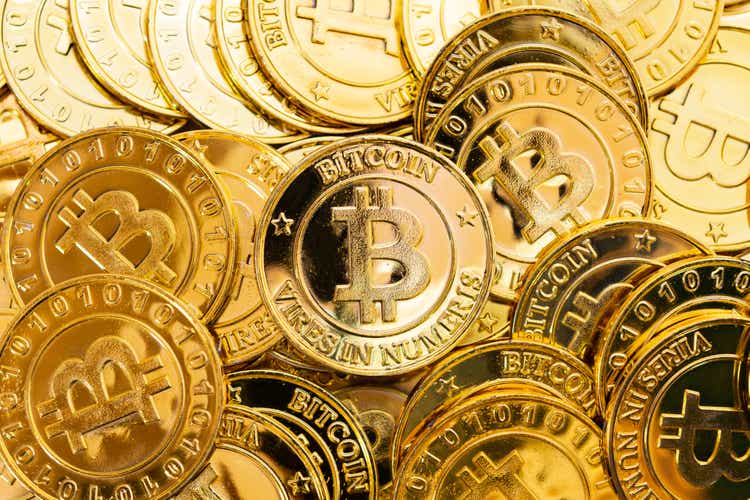 The clock is ticking on whether Congress will approve spending legislation for the federal government before its 2024 fiscal year starts on October 1. If lawmakers can't renew funding by that critical deadline, which is looking more likely, a great number of government operations would cease.
For cryptocurrency investors, what impact, if any, does a government shutdown have on the price of bitcoin (BTC-USD)? Seeking Alpha analyst Giesbers Investment Strategy uncovered the price action of bitcoin, widely seen as a gauge of the broader crypto market, during the previous three shutdowns. In the most recent one, from Dec. 22, 2018 to Jan. 25, 2019, the digital token slid 9.8%. That followed a 15.7% decline in the Jan. 20-23, 2018 shutdown and a 7.8% climb in the Oct. 1-16, 2013, shutdown.
Bear in mind there have only been three government shutdowns during bitcoin's existence, "so there's not a whole lot of data here," Giesbers noted this past week.
The contributor argued that, during these government shutdowns, other sources of volatility influenced bitcoin (BTC-USD) more than the volatility stemming from the shutdowns. And in 2013, bitcoin's (BTC-USD) popularity was only a fraction of where it is now, "and people especially did not view it as a safe harbor in case of financial turmoil."
In other words, BTC was a beast of its own, and "I believe a government shutdown will not lead to a rally in Bitcoin price," he predicted.
As it relates to crypto securities regulation, one of the larger forces driving crypto prices, a shutdown would result in delayed regulatory decisions, including matters concerning crypto exchange-traded funds, as the Securities and Exchange Commission would face substantial staff reductions. Financial heavyweights like BlackRock (BLK) and Fidelity Investments have been vying to be the first to market for a U.S. ETF that invests directly in bitcoin (BTC-USD). So a delay in a potential SEC approval for such a product could prompt further uncertainty.
Some crypto investors have turned bullish on the prospect of a government shutdown, with bitcoin (BTC-USD) set to close out the week ending September 30 nearly 3% higher, on the notion that non-sovereign currencies wouldn't be affected by government procedure. Others, though, have argued that a government shutdown risks a liquidity drain across financial markets as investors flock to safer assets, thus bitcoin could unexpectedly suffer in the wake of a wider selloff, at least in the nearer term.
"Crypto has always grown in an economic downturn. If you look at the inception of bitcoin, it was founded as a direct result of a great financial crisis caused by banks. Every financial crisis helps to highlight the strength of bitcoin as a decentralized asset uncontrolled by banks or governments," said Stefan Rust, CEO of independent inflation data aggregator Truflation.
Meanwhile, traditional alternative assets like gold (XAUUSD:CUR), as well as the stock market (SP500), are on track to end the week in the red, suggesting "the market might view bitcoin as a 'flight to safety' asset during a time of instability," said David Waugh, lead analyst at Coinbits.
Dear readers: We recognize that politics often intersects with the financial news of the day, so we invite you to click here to click here to join the separate political discussion.
More on Bitcoin and the Government