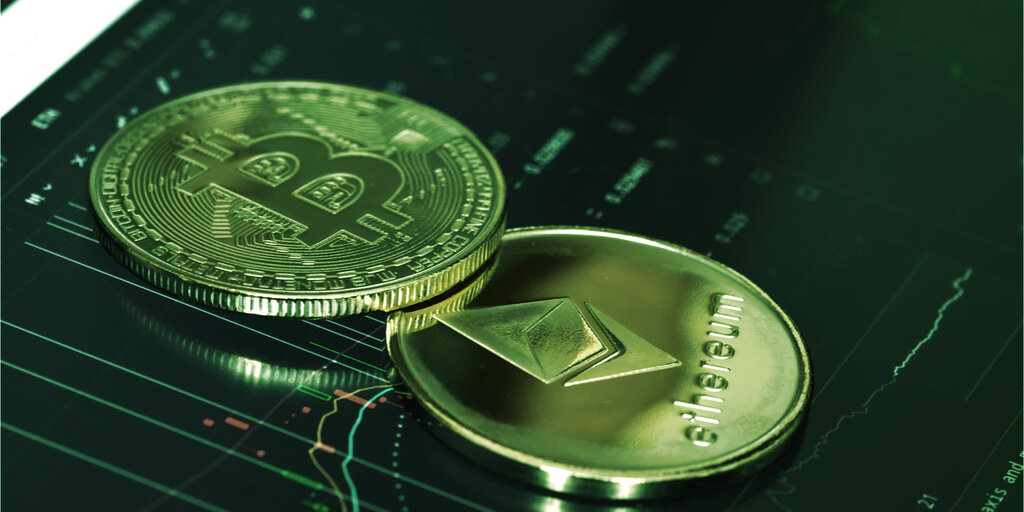 Last week's market-wide positive price action was sustained this week as leading cryptocurrencies continued making significant gains.
Bitcoin, as of this writing, had added 8.5% to its market value to sell for $24,214, and Ethereum fans enjoyed an even greater rally, with their favorite coin blowing up 12.5% to $1,714.
Much of the buzz around Ethereum is down to the fact the network is laying the groundwork for a major overhaul—aka the merge—when Ethereum will cut its energy consumption by 99.95% transitioning from a proof-of-work blockchain to a proof-of-stake model. A final testnet deployment called Goerli is expected to take place in early August before the network is ready to fully transition. 
While Ethereum prepares for the big changes, Ethereum Classic is also blowing up. ETC is based on Ethereum's original ledger, which includes an infamous $55 million DAO hack that was wiped from Ethereum by vote. The coin surged 52% this week to $40.
Ethereum Classic's rally comes after crypto mining pool Antpool announced a $10 million investment to back projects built on Ethereum Classic, which will remain a proof-of-work blockchain after the Merge.
Other notable performances this week among the top 20 cryptocurrencies by market capitalization include Cardano (up 11% to $.53), Polkadot (up 20% to $8.64), Polygon (up 14% to $.94), and Uniswap (up 30% to $8.73).
In the news
On Monday, electric vehicle manufacturer Tesla reported holding $222 million in digital assets at the end of June in the company's Q2 filing with the U.S. Securities and Exchange Commission. Back in February 2021, the company invested $1.5 billion in Bitcoin. Last week, news broke that the company had sold 75% of its BTC, worth approximately $936 million. CEO Elon Musk said the sale was prompted by uncertainty over when China would lift COVID restrictions. Tesla currently has one factory in Shanghai.
The U.S. Commodity Futures Trading Commission is beefing up its technology team in preparation for a potential role as a leading overseer of crypto. Nothing is set in stone, but a bipartisan House bill, called the Responsible Financial Innovation Act, which is cosponsored by Senator Kirsten Gillibrand (D-NY) and Senator Cynthia Lummis (R-WY), would give the CFTC the reins on "fungible digital assets which are not securities" if passed.
On Tuesday, a bipartisan bill introduced by Senators Patrick Toomey (R-PA) and Kyrsten Sinema (D-AZ),  called the Cryptocurrency Tax Fairness Act, would exempt tax reporting for crypto transactions of less than $50, or trades in which a person earns less than $50.
Over in Europe on Wednesday, the chair of the European Banking Authority, José Manuel Campa, said in an interview with the Financial Times that it won't be until at least 2025 when the regulator will know exactly which cryptocurrencies it will be charged with supervising.
One of the main difficulties the EBA is facing, said Campa, is a lack of crypto experts due to "high demand across society." He ruled out the possibility of baiting them with lucrative salaries, saying it was "not within the range of possible discussions" between the EBA and the European Commission.
That same day, the U.S. Federal Reserve announced another interest rate hike of 75 basis points aimed at stemming rampant inflation.
Last month, in response to inflation readings from May, the Federal Reserve raised interest rates by 0.75%, the steepest hike since 1994. Crypto prices crashed heavily that week as investors dumped riskier assets, although this new hike seems to have had an adverse effect on Bitcoin: An hour after the announcement, Bitcoin had grown 3% while Ethereum had sunk 5%.
Finally, it appears the industry is still not completely clear of crypto winter. On Wednesday, Singaporean exchange Zipmex filed for bankruptcy protection against legal action from creditors. The news came just a week after the exchange announced it was pausing withdrawals.
Stay on top of crypto news, get daily updates in your inbox.