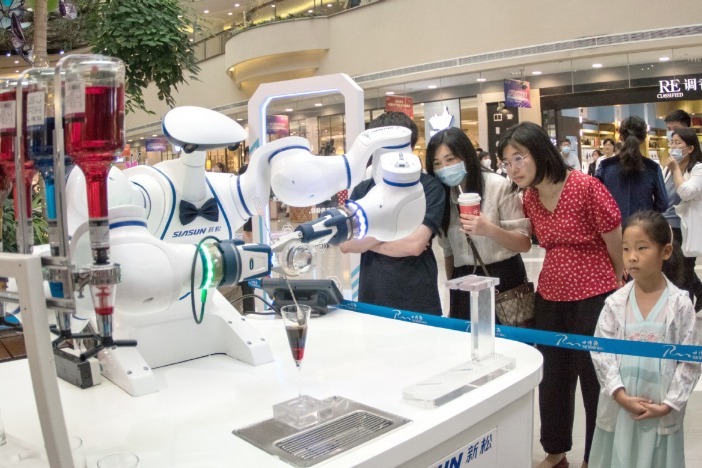 The 5th World Artificial Intelligence Conference will take place in Shanghai from Sept 1 to 3, and a metaverse-an artificially intelligent, computer-generated virtual reality-will be one of its key exhibitions as the city moves to build a world-class artificial intelligence development cluster, officials said on Friday.
The event, themed "Intelligent Connectivity, Infinite Multiverse," has attracted more than 200 exhibitors to showcase their products in the 15,000-square-meter exhibition area. This will be the debut show for more than 30 percent of these enterprises, said Wu Jincheng, director of the Shanghai Commission of Economy and Informatization during a news conference on Friday.
"The WAIC aspires to fully master the development of AI and the metaverse, connect the latest viewpoints and achievements in AI worldwide, and showcase Shanghai"s outlook on AI," said Wu, adding that the WAIC has entered the final stage of its preparatory work.
The conference's focus on the metaverse echoes the city's ambition, announced in July this year, to promote a variety of futuristic innovations such as low-carbon technologies, the metaverse and smart devices.
The city has promised to nurture and incorporate the metaverse into the transformation of its life, economy and digital space. The city plans to build 10 globally competitive enterprises and 100 specialized companies, and the metaverse industry scale is projected to reach 350 billion yuan ($51 billion) by 2025, Wu said.
"The Ministry of Industry and Information Technology will continue to collaborate with Shanghai in propelling the development of AI, support the WAIC to become a top AI event globally, and explore cooperation and innovation in the intelligent economy," said Ren Aiguang, an MIIT official.
In the past four years, the WAIC has witnessed more than 200 major industrial projects come to fruition, with a combined investment of more than 60 billion yuan, and more than 200 innovative products made their first appearance there. By organizing more than 300 activities and issuing a number of policy discussions, publications, reports and initiatives, the WAIC has become an important platform for the city's AI development, Wu said.