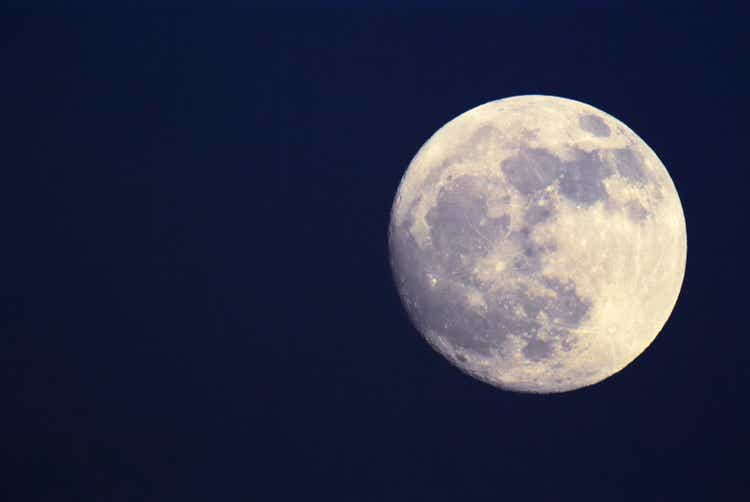 What Is SafeMoon Crypto?
SafeMoon (SAFEMOON-USD) is what's known as a memecoin, a crypto token or coin that is based on an internet meme. SafeMoon's name is derived from the cliché phrase "to the moon", a common meme stock term that market manipulators say to try to get others to buy the stock in hopes that it'll rise to extraordinary heights.
SafeMoon is not a crypto coin but rather it is a crypto token, the difference is that:
A crypto coin operates on its own blockchain.
A crypto token operates on an already-existing blockchain.
For example, Bitcoin operates on the BTC blockchain and Ether operates on the Ethereum blockchain while SafeMoon operates on the Binance Smart Chain (BSC).
The Binance Smart Chain has many of the same protocols and applications as the Ethereum Network, with one being the ability to host software programs known as smart contracts. Smart contracts create digital tokens and control the supply of those tokens. They are written for specific blockchains and won't work on other blockchains. SafeMoon is managed by smart contracts on Binance's blockchain.
History of SafeMoon
SafeMoon first launched in March of 2021. It had a unique feature: the SafeMoon smart contract charged a 10% exit fee in addition to any fees charged by a cryptocurrency exchange. The purpose of this exit fee is to discourage investors from selling their tokens.
SafeMoon takes the proceeds from the exit fee and distributes 50% of it to all current SafeMoon token holders in a process SafeMoon describes as a "reflection". This serves to increase the value of investors' holdings, while the remaining 50% of the exit fee is placed into a liquidity pool that's designed to maintain the token's price stability.
An issue affecting SafeMoon is that a large number of its tokens are owned by its founders. While these tokens are in "lock-up", such a heavy concentration of tokens in so few hands means that the holders can have outsized influence over price movements if they sell. In other words, it's prone to manipulation. The SafeMoon ecosystem includes the SafeMoon Wallet which is available for download on the Google Play and iTunes stores.
SafeMoon V2
In December 2021, SafeMoon upgraded the token to SafeMoon V2 (SFM-USD), which consolidated the original version at a ratio of 1 to 1000, and lowered the transaction fee to 2%. Like the earlier version, 50% of the fee is distributed to current token holders and the other 50% is divided between the SafeMoon liquidity pool and managers of the SafeMoon ecosystem.
Instructions for how to migrate to SafeMoon V2 depend on the type of wallet you have:
SafeMoon wallet: update to the newest app version then follow the screen prompts.
Other wallet: visit the SafeMoon Swap site for instructions on how to migrate your tokens.
Exchange wallet: the exchanges will automatically perform the migration process for you and then notify you.
SafeMoon Cost
Looking at the SafeMoon price charts, we can see that it reached a high of $0.0000097 on May 2, 2021.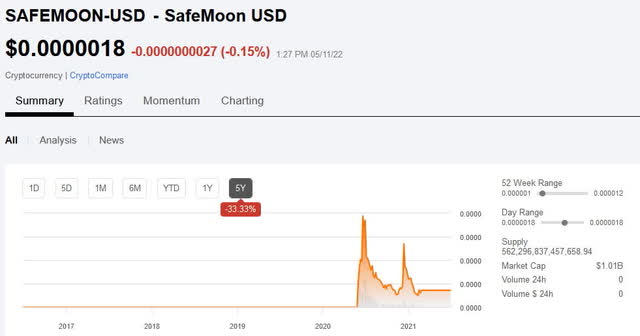 As of May 11, 2022, it is trading at $0.0000018.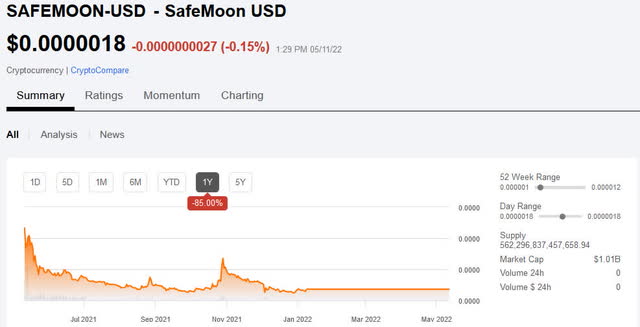 Where To Buy SafeMoon
Buying SafeMoon isn't as easy as buying some other cryptocurrencies. It is:
Not sold through investing apps: SafeMoon is not available for purchase on investing apps such as Robinhood and SoFi Invest.
Not available on some major exchanges: SafeMoon cannot be purchased on some of the major cryptocurrency exchanges such as Coinbase and Kraken.
Not able to be purchased using fiat currency: as of this writing, you can't buy SafeMoon on any cryptocurrency exchanges that accept fiat currency such as dollars; you must instead use another cryptocurrency to purchase the token.
Note: Fiat currency is any government-backed money.
How To Invest In SafeMoon: 3 Steps
Step 1: If You Own Other Crypto
Begin by going to SafeMoon Swap or PancakeSwap decentralized exchanges where you can use other cryptocurrencies such as Binance Coin (BNB-USD) to purchase SafeMoon tokens.
You may need to specify a slippage tolerance in order for the trade to process because slippage is the amount that the price of a crypto changes between the time when the trade is submitted and when that trade executes. SafeMoon recommends a slippage tolerance of 12% which you can specify on PancakeSwap.
Step 2: If You Don't Own Other Crypto
Create an account on a cryptocurrency exchange that accepts fiat currency, place the coins into a wallet, then transfer them to an exchange that sells SafeMoon. You can create a wallet on the Binance Smart Chain by using either MetaMask or Trust Wallet.
Step 3: Go to One of These Cryptocurrency Exchanges
Finally, go to a crypto exchange that sells SafeMoon and make your purchase. According to the SafeMoon website, the following are the major exchanges offering SafeMoon for sale with SFM/USDT pairs:
Bitmart
ZBG
Bitrue
LBank
Mandala
DigiFinex
Note: The information included in this article is for educational purposes only and should not be construed as investment advice. This is in no way a recommendation to buy this specific coin or any other cryptocurrency.
Pros & Cons of Buying SafeMoon
Pros
Benefits from the reflections: Coin holders receive a portion of the selling fee whenever other holders sell their tokens.
V2 update: The update which lowered transaction fees may make SafeMoon more attractive to exchanges.
Vetted by Certik: According to CoinMarketCap, SafeMoon's smart contracts are vetted by Certik which adds a level of security. This doesn't mean SafeMoon is a safe investment and doesn't mean it's not prone to manipulation.
Manual burn strategy: Reduces the supply of tokens which increases their price and demand.
Automatic liquidity pool: Tokens that are sucked up from transactions in the form of fees are added to SafeMoon's liquidity pool on PancakeSwap, which creates a solid price floor for the token.
Cons
Not listed on major exchanges: That makes SafeMoon less liquid than other crypto since it must first be converted into BNB.
High volatility: Its price can swing up or down in dramatic fashion. Investors can lose their principal.
Not useful for frequent trading: Since the selling fee will take a bite out of any profits.
Not backed: Like any other cryptocurrency, SafeMoon isn't backed by a central bank or other agency, for example, money held in banks in the U.S. is backed by the Federal Deposit Insurance Corporation.
Can be stolen: Quite a few cryptocurrency exchanges have been hacked into and tokens held in so-called "hot wallets" can be stolen; you can avoid this risk by using a "cold wallet" that isn't connected to the internet. Because Binance Smart Chain is a fairly new blockchain, there aren't many cold wallets that support BEP-20 tokens such as SafeMoon.
Monitoring an Investment in SafeMoon
The best way to monitor your investment in SafeMoon or any other crypto is with a crypto portfolio tracker. They allow you to monitor your investments across multiple networks and wallets 24 hours a day, 7 days a week. For those having hardware wallets, a crypto portfolio tracker is the best way to monitor your investments.
Popular crypto portfolio trackers include:
Bottom Line
SafeMoon is both difficult to buy and to sell; however, it may have a place in a diversified crypto portfolio. Just be sure that any money you invest in SafeMoon or other cryptocurrency is money that you can afford to lose. At the current time, it's difficult to argue that SafeMoon is anything other than a highly speculative, easily-manipulated investment opportunity.