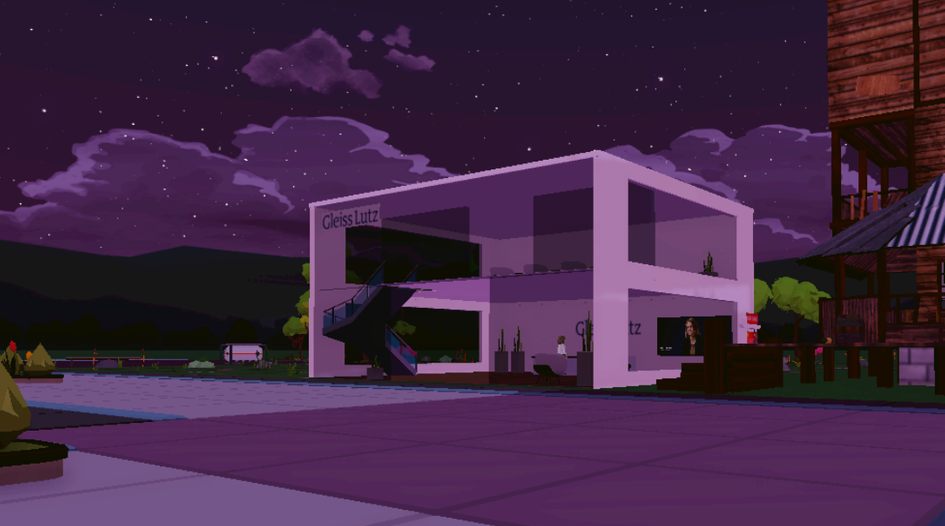 Every Tuesday and Friday, WTR presents a round-up of news, developments and insights from across the trademark sphere. In our latest round-up, we look at Chinese trademark registrations reaching 40.4 million, the USPTO and US Copyright Office studying NFTs, and much more. Coverage this time from Victoria Arnold-Rees (VAR), Trevor Little (TL), Tim Lince (TJL) and Joyce Ng (JN).
Market radar:
Gleiss Lutz heads to the metaverse – German law firm Gleiss Lutz has become one of the first major law firms to open an office in the metaverse. Launched earlier this week in the Decentraland virtual world, the firm purchased plots of virtual real estate to build the pixellated building. According to Legal Cheek, the firm aims to be "on the doorstep of companies operating in the metaverse, advising them from its new digital gaff". Commenting on the launch, co-managing partner Michael Arnold said: "The metaverse fits seamlessly into our site strategy. We want to be accessible to our clients now and in the future, especially in this rapidly changing commercial environment." After a visit to the virtual office by WTR, we found a promotional video playing in the reception area, with links to the firm's website and social media available on the reception desk (screenshot). Upstairs contained an empty board room (screenshot). Time will tell, of course, how having a metaverse-based office will prove helpful for law firms beyond being a promotional tool. (TJL)
Brand radar:
Kanye West YZYSPLY filing ruffles retail feathers – Kanye West's Yeezy brand seems to be eying expansion into the retail space. Last month, the artist filed an application for the trademark YZYSPLY covering retail stores, retail store services, online ordering services and online retail store services. A separate filing notes that the brand also plans to offer a range of clothing, including t-shirts, dress shirts, sweatshirts, dresses, jeans, beachwear, infantwear and footwear. However, West has a reputation for – among many things – filing large numbers of trademark applications. Only 3% of West's filings (15 out of 465 applications filed over the years) have actually registered, notes Gerben Law Firm's Josh Gerben on Twitter. The latest filing for retail services is just another in a long line of pending applications. Indeed, West recently filed 17 USPTO applications for his Yeezus brand covering various goods and services, including cosmetics, household items, toys, games and sporting equipment, blockchain-based currencies and NFTs, physical and online retail stores, campaign buttons, clothing and bags, and amusement parks. Therefore, despite a flurry of media headlines, the rapper's venture into the retail space should perhaps be taken with a pinch of salt. Instead, it demonstrates the power of a global brand to ruffle industry feathers with a single application. (VAR)
Office radar:
(For the latest coronavirus-related updates from national IP offices, please read our dedicated article, which is being continuously updated)
UKIPO announces interim head and other appointments – Adam Williams has been appointed interim chief executive of the UK Intellectual Property Office (UKIPO), taking on the role from 1 September, the office has announced. With current office head Tim Moss joining the Welsh government in September, Williams will assume a range of responsibilities over the next few months while the search for a permanent appointment continues. Williams joined the UKIPO in 2009 and has been serving as director of international policy since September 2017. "I'm delighted to have been appointed interim CEO," he states. "Together with my colleagues on the executive board we are looking forward to providing continuity of leadership to ensure we continue as a great place to work for our people and ensure excellent delivery for our customers." Elsewhere, Andy Bartlett has been appointed as UKIPO deputy CEO and director of services. Bartlett will be responsible for delivering all current services to customers, IT and the office's One IPO transformation programme. Other newly confirmed appointments include Chris Mills as director, rights policy and enforcement, Pippa Hall as director of strategy, Sian-Nia Davies as chief data and technology officer, Neil Hartley as director of finance, and Penny Phillpotts as director of people and place. (TL)
Chinese trademark registrations reach 40.4 million, 20.9% increase YOY – The China National IP Administration (CNIPA) has revealed that 3.67 million trademarks were registered in the first half of 2022, bringing the total number of valid registered trademarks to 40.4 million – a 20.9% increase year-on-year. The CNIPA has also received 2,699 Madrid applications from domestic applicants, reviewed 81,000 trademark opposition cases, and evaluated 217,000 trademark cases, it revealed at a press conference held by the State Council Information Office. As of June 2022, applicants from over 200 countries or regions have obtained valid registered trademarks in China, with the United States, Japan, Germany, the United Kingdom and South Korea the top five countries of origin. Notably, the CNIPA acknowledged that IP application numbers fell in the first half of the year, but they later rose. The overall trend is "stable", the office assured. (JN)
Chinese trademark examiners investigated for "serious duty violations" – Kang Wang, an examiner at the CNIPA trademark office, and Tao Chen, a trademark reviewer at the Jinan trademark review center, are being monitored and investigated under suspicion of "serious duty violations", according to the Central Commission for Discipline Inspection of the State Administration for Market Regulation and the Shandong Provincial Discipline Inspection Commission. No further information has been provided. (JN)
German IP office warns of "serious case of fraud" – The German Patent and Trade Mark Office (DPMA) has issued a warning on misleading payment requests sent to users around Germany. The case concerns invoices for trademark applications that "illegally contain the logo of the DPMA and the forged signature of a high-ranking staff member of the DPMA", which request payments to bank accounts in Poland. Commenting on the "serious case of fraud", DPMA president Cornelia Rudloff-Schäffer said: "This is obviously a particularly bold attempt to defraud our applicants. We have, of course, reported the matter to the police for criminal prosecution." The agency has not seen a "similar" case since 2019, it states. (TJL)
Swiss IP office ditches professional trademark search – The Swiss Federal Institute of Intellectual Property (IPI) has announced that from 1 July 2022, it has withdrawn its professional trademark search service and now directs users to alternatives, including free databases. All IPI search experts will continue to work for the registry. "Nowadays, people who want to search for trademarks or monitor the market are increasingly doing so themselves using free online databases. As a result, the demand for trade mark searches has continually decreased in recent years," the agency stated in a blog post. (TJL)
USPTO and US Copyright Office to study IP impact of NFTs – The USPTO and the US Copyright Office have agreed to conduct a study into the impact of non-fungible tokens (NFTs) on IP rights as the number of lawsuits involving NFTs continues to rack up. The examination comes after a request was made by Senators Patrick Leahy and Thom Tillis in June for a deep dive into the potential ramifications that the new asset class could have on IP rights. The two offices have now agreed to plot a plan of action that will include consultations with various stakeholders familiar with the NFT landscape. Topics for consideration will include IP challenges for future NFT applications, rights associated with transferring NFT ownership, licensing rights and infringement, and potential IP rights for NFT creators. It is hoped that the study will provide some much-needed guidance as more and more brand owners find themselves grappling with the IP implications of entering – or waiting to enter – the new digital environment. (VAR)
WIPO Assemblies opens with focus on international growth – WIPO Director General Daren Tang opened this week's WIPO Assemblies with a call for delegates to continue to transform intellectual property into a vehicle for international growth and economic development. "We as the global IP community must continue being fully committed to transforming IP from a technical vertical of interest only to specialists, into a powerful catalyst for jobs, investments and development that supports innovators and creators everywhere," Tang said. "Our global situation remains extremely challenging. But despite these challenges, we cannot look back or stop our work of building the future of the global IP ecosystem." To aid in this, Tang highlighted WIPO's surplus of nearly Sfr245 million for the 2020/2021 biennium, which puts the organisation in "a good position to invest… even as the overall financial and macro-economic environment remains volatile and challenging", he said. Tang went on to provide an overview of how work is progressing under WIPO's new Medium-Term Strategic Plan 2022-2026. "Whatever our challenges and difficulties, the global IP community can and should draw on the dynamism, energy and optimism of the innovators and creators that we support, and continue on the transformation journey that we have started together," he concluded. Around 900 delegates registered to attend the in-person Assemblies this month – the largest number of registrants for a WIPO Assemblies meeting since the pandemic began. (VAR)
Media Watch:
Love Island counterfeit jibe goes viral – The most popular reality show on UK TV at the moment is Love Island, which sees a group of young, beautiful single people live together in a villa over the summer. In an episode that aired this week, one of the most high-profile couples on the show – Davide Sanclimenti and Ekin-Su Cülcüloğlu – had an argument over trust following the arrival of a new islander the previous day. Walking away from the heated argument, Sanclimenti described his partner as "as fake as the Louis Vuitton from China". The comment soon went viral on Twitter, with 'Louis Vuitton' trending in the United Kingdom for much of the evening and following day. This incredibly led to coverage from a number of major news outlets, including the Daily Mail publishing an article focused on the reaction to the comment. For Louis Vuitton, it is a troubling reminder that the counterfeit issue it faces in China remains synonymous enough that it has become a widespread metaphor for 'fake'. (TJL)
Law firm radar:
New KXT Law firm launches in Silicon Valley – IP attorneys Karineh Khachatourian, David Xue and Amir Tabarrok have announced the formation of a new firm, KXT Law. The firm offers a full range of IP legal services, including counselling, prosecution, portfolio management and litigation involving patents, trademarks, copyrights and trade secrets. The firm also handles contract and commercial litigation.The founding partners are joined by Oren Torten, Vinh Le and Nick Woloszczuk, and three staff members. "The pandemic forever disrupted the workplace and changed the way the community viewed the often tradition-bound legal industry. This change opened the door for KXT Law to meet client demand by offering tailored services in a way like never before," says managing partner Khachatourian. "We joyfully embraced the revolution, designing KXT Law in line with our vision of a next generation law firm distinguished for its performance, personalised approach to legal services and prioritisation of client success." (TL)
Latham & Watkins unveils IP litigation VEP – Latham & Watkins has launched the IP Litigation Virtual Experience Programme (VEP), the latest offering in its VEP series. The offering provides participants, particularly law students and other aspiring legal professionals, with an interactive opportunity to learn more about the nature of a global law firm's practice through a patent litigation lens. "Our IP litigation clients demand trial lawyers who can leverage deep technical knowledge, industry insight, and litigation experience across venues to protect their most important assets," said David Callahan, global chair of the Latham IP litigation practice. "We designed this programme to provide the next generation of IP litigators real-world experience that they can expect to see in practice." Participants are offered an opportunity to work with – and provide advice to – a client in a patent litigation dispute and better understand the key factors involved in protecting a client's patent rights. Tasks include identifying a patent's anatomy, selecting the jurisdiction for IP disputes, distinguishing patent prosecution and patent litigation, analysing and discussing a patent, conducting a prior art search, and identifying the key events in a patent litigation dispute. (TL)
Veteran IP lawyer joins Husch Blackwell – Veteran IP lawyer Tom Miller has joined Husch Blackwell as a partner in the firm's technology, manufacturing and transportation industry group. Based in the firm's Milwaukee office, Miller's practice focuses on developing broad strategies to protect the large IP portfolios of innovator companies. "Few attorneys have attained the level of respect that Tom has reached," said Jeff Sigmund, head of the technology, manufacturing and transportation industry group. "He is authoritative and practical and has the unique ability to connect IP challenges to the larger issues of overall corporate strategy. Our clients will greatly appreciate having someone of Tom's calibre on board." (TL)
Chapman Tripp expands patent attorney service team – Chapman Tripp has appointed a new senior patent attorney to its specialist firm, Chapman Tripp Patents. Headed by directors Matt Sumpter and Ben Halberg, the offering was launched just over a year ago and has now bolstered its ranks with the appointment of David Koedyk as a senior patent attorney. Koedyk specialises in chemistry and materials science, advising clients on patentability, invalidity, infringement and freedom to operate matters. "David's skill set further broadens our patents offer across all fields of endeavour, from engineering and chemistry to software and deep tech," said Sumpter. (TL)
And finally…
WTR Q2 2022 Special Report released – WTR's latest Special Report, 'The trademark landscape: a data deep dive into key and emerging trends', is available now to WTR subscribers. The report reveals the biggest corporate portfolio owners, presents insight from our annual benchmarking survey and uncovers key US litigation patterns.