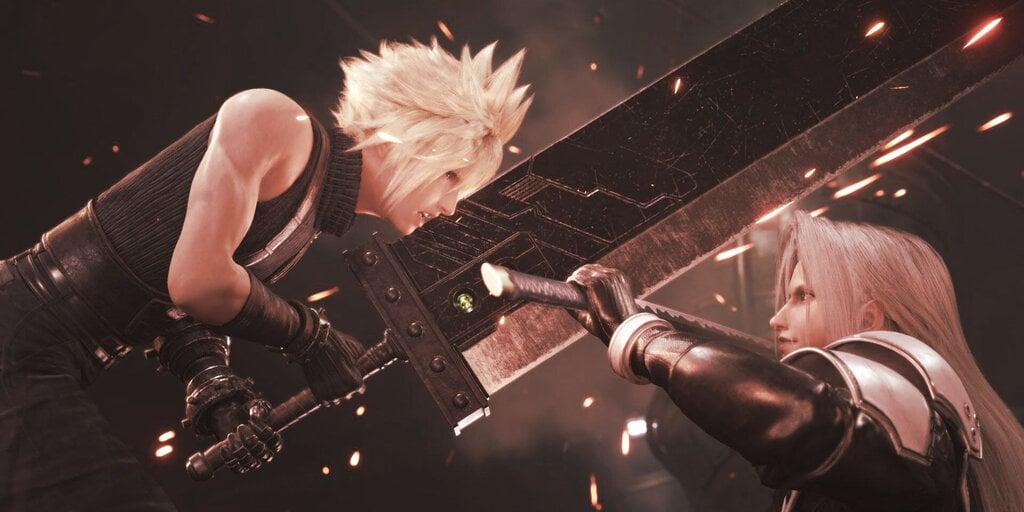 In brief
Square Enix is taking a "very measured" approach with NFTs, joining Enjin to release Final Fantasy NFTs.
The Polkadot-based NFTs will be paired with physical trading cards and toys, which will be released in 2023.
One of the most successful video game series of all time is set to receive the NFT treatment in 2023, as Japanese publisher Square Enix has partnered with blockchain gaming firm Enjin to release NFTs based on the Final Fantasy franchise.
The NFTs won't be purely digital products, however. They're tied to physical action figures and trading cards based on the smash role-playing game (RPG) Final Fantasy VII to commemorate the original PlayStation game's 25th anniversary.
Square Enix will first release packs of physical trading cards in spring 2023 that will sell for $4 per six-card pack. Each comes with a code to redeem for a single NFT trading card minted by Enjin on its Efinity platform, which is built on the Polkadot blockchain.
In November 2023, the publisher will release a limited edition action figure of the game's star, Cloud Strife. Both the standard figure and "Digital Plus Edition" will come with a code to redeem an NFT certificate of authenticity, but only the latter comes with an additional NFT: a digital replica of the physical toy. The standard figure will sell for $130, with the Digital Plus Edition at $160.
The Efinity blockchain runs on Polkadot as a parachain, or a dedicated subnet of sorts, that's part of the overall Polkadot ecosystem. Polkadot uses a proof-of-stake consensus model that does not require energy-intensive mining, unlike the leading NFT platform, Ethereum.
Enjin CTO Witek Radomski told Decrypt that the firm first worked with Square Enix several years ago, hosting websites for online guilds that play Final Fantasy XIV.
However, this new partnership comes amid growing interest in blockchain tech and NFTs for Square Enix. Final Fantasy—which has sold 168 million games worldwide since 1987, per the company—is its crown jewel.
"They were looking at all kinds of blockchains, testing them out," said Radomski. He added that Square Enix sought a platform that could "meet the needs of gamers," including considerations like low transaction costs and energy efficiency.
An NFT is a blockchain token that works like a proof of ownership for an item, including both digital and physical goods. NFTs are often used for things like digital artwork, profile pictures, collectibles, and interactive video game items, and the NFT market surged to $25 billion worth of trading volume in 2021 alone.
Square Enix has ramped up its blockchain and NFTs endeavors over the last couple years. It invested in the Ethereum-based metaverse game The Sandbox in 2020, and earlier this year announced plans to bring its Dungeon Siege franchise to the NFT-powered game world.
The firm also released NFT collectibles in Japan last year based on its Million Arthur game series, using the LINE blockchain platform. Earlier this year, Square Enix president wrote positively of the potential benefits of NFTs and tokenized economies, noting interest in "play-to-contribute" experiences in which players benefit financially from a game's growing success.
More recently, Square Enix sold off a slate of major franchises (including Tomb Raider) and three of its game studios for $300 million, in part to finance its growing crypto industry endeavors. Just yesterday, Square Enix was announced as an investor in Bitcoin gaming startup Zebedee, which raised a $35 million Series B round.
Radomski said that Square Enix has been "very measured" in its approach to the NFT initiative with Enjin, seeking to streamline the process for gamers who may be encountering NFTs for the first time. "That lets us adapt our products even more," he told Decrypt. "It's been amazing."
Enjin's evolution
Enjin, which has also partnered with Microsoft and Samsung, is arguably best known for its work in the Ethereum ecosystem. Enjin Coin (ENJ) is an ERC-20 token, and Radomski authored Ethereum's ERC-1155 multi-token NFT standard. But the firm gradually saw that Ethereum's low transaction throughput and surging fees would limit game developers.
"Back in 2018, I realized that Ethereum was going to have some limits at some point, even though the fees back then were like a penny," he said. "We can't run millions of transactions. We can't run thousands of games on Ethereum because it'll just be too much."
Radomski said that Enjin explored the potential of scaling solutions that could be ideal for gaming and collectibles, but ultimately decided that it didn't want to build something from scratch. Instead, the team opted to build Efinity on Polkadot, which he said was alluring as a "framework for blockchains" that lets builders customize as they see fit.
"Everything that we're launching now [on Efinity] is like a gen-two of everything we've built," he explained.
Along with shifting to Polkadot, Radomski said that Enjin is changing the way that it operates. Instead of a software-as-a-service (SaaS) style model in which Enjin hosts content in partnership with game developers, the firm is letting creators use the open Efinity platform to deploy their own infrastructure and build NFT-powered games.
"That's been the dream for the last five years," he said, "and now it's finally coming out."
Efinity lives on a Polkadot parachain, but Enjin plans to expand cross-chain functionality and bridge to other blockchains. Bridging to Ethereum is on the horizon, Radomski said—so these Final Fantasy NFTs could be transferable to Ethereum by the time they launch. Other blockchains that support the Ethereum Virtual Machine (EVM) may also be added.
NFT gaming growth
Radomski thinks it's only beneficial for NFT gaming to see major publishers like Square Enix and Ubisoft playing in the space. These Final Fantasy NFTs aren't designed to be used within any game, but Square Enix has previously signaled interest in creating NFT-powered games with tokenized economies.
Such publishers are building on the backs of indie creators that have experimented with blockchain technology in recent years for NFT-powered games, sometimes with enormous success—as in the case of the Ethereum-powered play-to-earn game, Axie Infinity.
However, NFTs have also drawn the ire of vocal gamers, in part due to the environmental impact of some platforms, as well as scams and rampant speculation. For some gamers, the issue is also that some NFT-powered games are focused on earning tokens, rather than having fun. That's a perception that veteran game developers can potentially help shift.
"Gamers have to be shown that developers want to use these things responsibly in interesting ways to enhance gameplay," Radomski said, "not just as a monetization mechanism."
Enjin has been in conversations with "various AAA," or major, publishers of late, he added. Such studios not only have experience building polished games for the masses, but they're also well capitalized. They don't need to sell NFTs simply to fund game development. That could potentially lead to stronger games that utilize blockchain tech for new kinds of experiences.
"It's going to take another year or two to see more of these games coming out that use NFTs in interesting ways," he said. "But it's happening—people are thinking about this. I think the AAA [publishers] are going to show some innovation. They have the budget to actually be able to explore these interesting new concepts for NFTs."
Stay on top of crypto news, get daily updates in your inbox.