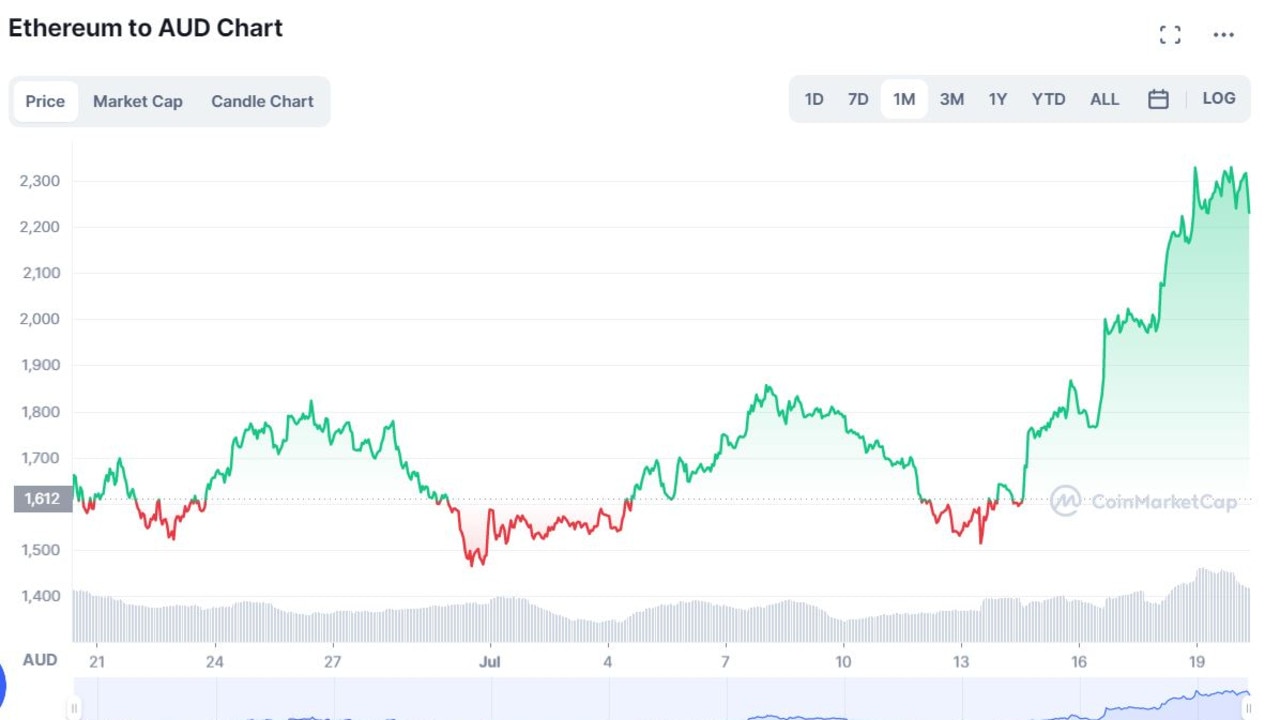 The cryptocurrency market has made a slight improvement after a massive decline over the past few months.
According to CoinMarketCap, the overall market capitalisation was up 6.34 per cent at US $937 billion.
Bitcoin, which remains the largest cryptocurrency in market value, rose by 6 per cent last week to briefly trade above AU $34,000 after dipping well below $30,000 in recent weeks.
The popular asset has risen 8.37 per cent in the last 24 hours alone.
Ethereum, the second biggest cryptocurrency, surged by over 14 per cent to trade at $1,228 at the time of publication.
Solana and Avalanche, often touted as ethereum "killers", were also recording significant gains, recording rises of 12.36 per cent and 10 per cent, respectively.
However, a new study revealed 60 per cent of investors expect to see the crypto market decline again soon, according to the Bloomberg's MLIV Pulse survey conducted from July 5 through July 8.
Conversely, just 40 per cent are bullish on bitcoin and expect it to hit US $30,000 again, according to the survey based on responses from 950 investors.
"It's very easy to be fearful right now, not only in crypto, but generally in the world," Jared Madfes, a partner at venture firm Tribe Capital, told the outlet.
On the whole, cryptocurrencies have plummeted in recent months as investors shift their money to safe havens in response to the US Federal Reserve's interest rate hikes and mounting geopolitical tensions that have rattled markets. Bitcoin is down about 70% since hitting its all-time high of US $69,000 last November.
Despite the hard times being felt by crypto traders, Changpeng 'CZ' Zhao, the founder and chief executive of Binance, said that anyone who invested in the digital assets just four years ago would still be "very happy" with their return.
"I think given this price drop, from the all-time high of $US68,000 to $US20,000 now, it will probably take a while to get back. It probably will take a few months or a couple of years," Mr Zhao told the Guardian, adding: "No one can predict the future."
He went on: "$US20,000 we think is very low today. But you know, in 2018, 2019, if you told people bitcoin will be $US20,000 in 2022, they would be very happy. In 2018/19, bitcoin was $US3000, $US6000."
Retail and institutional investors alike remain deeply polarised regarding the long-term value of cryptocurrencies.
Some 28 per cent of investors had strong confidence that cryptocurrencies were a transformational development in the world of finance, while 20 per cent said the tokens are essentially worthless, according to Bloomberg.
Nearly a quarter of retail investors (24 per cent) said cryptocurrencies were all garbage, while 27 per cent said they were open-minded but sceptical and 22 per cent said they were sceptical but were invested in the sector anyway.
"We appear to be entering a recession after a 10-plus year economic boom," Coinbase CEO Brian Armstrong said in a note to employees last month.
"A recession could lead to another crypto winter, and could last for an extended period."