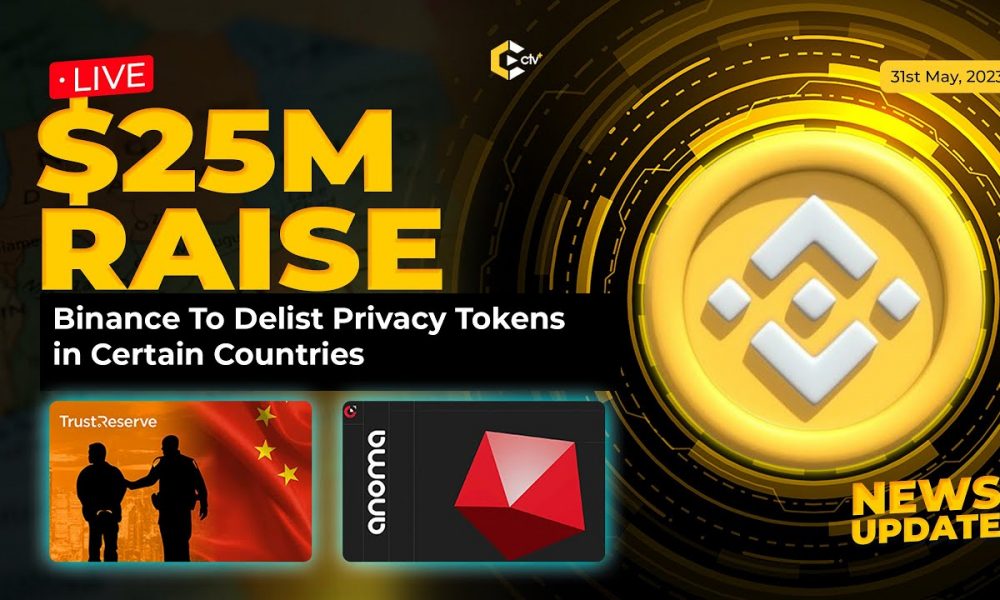 The constantly evolving cryptocurrency landscape has caused Binance, a major exchange platform, to make significant moves that impact users in specific regions. This article covers the reasoning behind Binance's latest decision to remove privacy tokens, as well as its potential effects. Additionally, we explore other notable news like a blockchain startup getting $25 million for third-gen model development, Chinese officials showing concern about national security and AI, and a stablecoin issuer being detained by Chinese authorities. 
Binance Implements Measures: Privacy Tokens Delisted in Certain Countries
Binance, a prominent cryptocurrency exchange, is set to remove all privacy tokens from its platform, causing a shift towards transparency and reduced privacy for European cryptocurrency users. From June 26th, users in France, Italy, Poland, and Spain using Binance will be affected by the delisting of privacy tokens such as Monero. The exchange's decision comes in compliance with local laws and regulations governing the trading of privacy coins. While Binance is committed to supporting top-quality cryptocurrency projects, compliance is vital for maintaining effective user service.
Non-Profit Foundation Secures Funding for Third-Generation Blockchain Architecture
Anoma Foundation, a Swiss non-profit, has achieved a key funding milestone on its journey to create a third-generation blockchain architecture. A successful funding round raised a massive $25 million, enabling Anoma Foundation to continue to develop and fine-tune its versatile and robust blockchain architecture. The goal is to create digitized applications like decentralized exchanges (DEXes) and blockchain-based protocol frameworks. 
Chinese Officials Express Concerns Over AI and National Security
China's push towards advancements in artificial intelligence (AI) comes with cautionary warnings from officials, prompting calls for measures to better safeguard national security. At a recent meeting, President Xi Jinping and influential members of the Communist Party emphasized the country's resolve to emerge as a global leader in the development of cutting-edge technologies. Deliberations included the pressing need to strengthen political security, establish better data and internet security governance, as well as regulate the responsible evolution of artificial intelligence.
Chinese Government Tightens Grip on Cryptocurrency Industry
As part of China's continuous crackdown on the cryptocurrency industry, several prominent employees of Trust Reserve have been detained due to an ongoing government investigation. Trust Reserve is the issuer of CNHC, a stablecoin pegged to the Chinese yuan. These arrests have left the employees and their families apprehensive about their future. This move is the latest attempt by China to regulate the cryptocurrency industry within its borders.
As Binance adapts to comply with local regulations, privacy tokens are being delisted in specific European countries, marking a profound shift in the cryptocurrency landscape. Meanwhile, the Anoma Foundation's recent funding serves as a testament to the progress being made in blockchain architecture research. In light of Chinese officials' concerns about AI and national security, it's clear that responsible AI development is of utmost importance. That said, the detainment of Trust Reserve employees by the Chinese government is a reminder that the cryptocurrency industry is still subject to strict regulation. Keep yourself informed, engaged, and get ready for the expected yet exciting changes in the evolving world of blockchain and cryptocurrency.
Read also: Patricia loses $2M in hack, Bybit pre-approved in Kazakhstan, and Tabi raises $10M